Happy Mother's Day to all you wonderful mothers out there!
It's feature Sunday…YAY!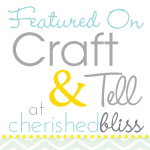 My husband took some pictures of me and the kids to send to my mom. I'm never in pictures so I thought I'd share some here with you….. I know, I'm not photogenic : ( Luckily my kids are way cuter and take the attention for themselves.. hehe!
Let's all just ignore the HORRIFIC grey roots in the second picture. Yes it's true, I have grey hair… and its bad! I'll never get to feel bad about getting grey hair as I age since I've had it since I was 14… weird right?
Anyways. I try not to let it get THAT bad, but I did just move across the country, and let's face it: Loosing a hairdresser is like loosing an arm when you have roots like that!
Just in case you missed it….
There are 2 giveaways going on now.
An Amy Butler Charm Pack from my newest sponsor – Southern Fabric

And a beautiful Watercolor Print from – Family Patchwork Art

Today is the last day to enter into One Artsy Contest… so hurry before it ends!
Now the features : )

Burlap Flower Pot by Too Much Time

Lens Cap Pouch by Adventures of Our Family

Paint Chip Matching Game by Sew Fantastic

Summer Tank by EmmylouBeeDoo

Bat-Stache by Bacon Time with the Hungry Hungry Hypo
Thank you to everyone who linked up last week! : ) Always a pleasure looking through them! If you were featured don't forget to
grab your button!