First off I want to thank everyone for linking up last week and all the awesome comments I got! You guys are why I blog! It is so fun to sit down and read through all the encouraging comments! I think I wrote everyone back, if I missed you I am so sorry and your comment did not go unnoticed! I think I read them all twice!
Just a little update, our original plan was to leave around the end of April, but we are in fact leaving Friday. Crazy right? Yeah… did I mention I am like the world's slowest packer!
Anyways… you guys totally rocked last week! I usually feature about 5 links from the party, but there were just so many awesome ones this week! So I have a few extras today!
————————

Let's take a look! and don't forget to come back tomorrow @ 5 for the party!
I've always had a thing for stuffed elephants, but this one by Pink Stitches has to be the cutest one I've ever seen!

Tutu's and Tea Parties made these absolutely darling barefoot sandals! LOVE them!! (She gives the pattern too!)

These are for my niece, I haven't read the books but I want to see the movie and The Crafted Sparrow made some pretty awesome shoes!

If I could steal this wall from Thrifty Inspirations, well… I might just do it ; ) I love striped walls and she did a fantastic job!

This Spring Mantel from Imprintalish is just adorable! I love everything about it!

Alderberry Hill made these AWESOME paper punched Easter eggs!

This stenciled coffee table from Before Meets After is just stunning! I love the look of it!

Once a Mom Always a Cook showed us how her daughter made these wonderfully delicious Cranberry Orange Muffins. I know they are delicious because I get to sample so many of their desserts…. it's a good life!
Did I mention that my wonderful sister is bringing my family dinner every night until we leave for Wisconsin so I don't have to dirty up my kitchen…. I am going to miss her! I guess she will have to start sending me food somehow!

The 36th Avenue made this oh so fabulous looking banana bread with an almond orange glaze, umm… YES PLEASE!

———————————————————————————————
Like I said… awesome stuff last week! There were so many awesome projects, go check them all out!
If you were featured today, grab your button and display it proudly! : )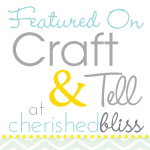 If you haven't entered the RAMSIGN GIVEAWAY yet, head over and enter it
HERE