Hey everyone!
Craft and Tell is opening a little early today.
WHAT?! I know… I'm usually late not early, lol!
But today I am participating in the Pinterest Scavenger Hunt!
So if you are popping over for the Scavenger Hunt, here is the clue:
CLUE
"All the words that remind me of Fall."
So once you find the post you think that clue leads you to, pin it to your pinterest board.
If you need the guidelines on how to play along, stop by here 
Ad Space ($26 Value) and Blog Header Redesign ($30 Value)!
Our first sponsor is Cherished Bliss, a blog "where I share what I'm working on. I'm a busy mama of 2 and a wife to an amazing man! Everything I do is inspired by my family from furniture, decor, crafting, sewing, and more! I try to do a little of everything ; ) Stop by to see where in my adventure I am… and I'll probably be drinking coffee!"
Cherished Bliss is offering a one month advertisement, worth $26: You will receive an intro post, option for a giveaway, and shout outs on social media sites!
Our second sponsor, Simply Klassic Design, is offering a blog header redesign worth $30. This designer offers bloggers customized blog designs, tailored to your unique personality and taste. She is dedicated to working with you to offer an affordable and stylish blog design to set you apart from other blogs.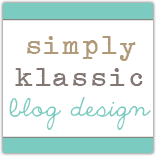 To enter the Giveaway and info on how to participate in the Pinterest Scavenger Hunt
Visit THIS Page 
—————————————————————————————————————
Ok so are you ready to party?! 
Remember……
Family friendly only, visit other's links, and I'd love for you to follow along and grab the button! ; )