I don't technically have an "entryway" but there is a wall you see right when you walk in the front door… so I am going to go with that : )
I shared my fabric lined drawers for this dresser HERE, so you might remember that.
I actually drug this pallet wood across the country. My husband wanted to just throw it away in Texas, but we had already cut it and everything…it was coming with us one way or another!
It was pretty easy to make. My original plan was to just pry the pallet boards off of the pallet, but these are pretty weathered and it was just splitting the wood when I tried, so my husband just took a saw to it for me : )
Then I stopped over at Menards (it's kind of like a Lowe's here) and had them cut a 1×4 for me. to hold it all together.
I just used regular wood screws to attach the 1×4's to the back of the pallet wood. I chose to leave a little bit of the 1x4s exposed at the bottom since I was just planning on leaning this against the wall on my dresser and not actually hanging it. It helps it to not slide and picks it up off the dresser just a hair. Not sure if this was worth it or not but it seemed like a good idea ; )
A little change
So after I typed up this post I decided to rotate it so that the wood was vertical… so the wood sticking out the bottom only really applies if that is the part that will be against the dresser. This is what it looked like before I rotated it.
What do you think? I liked it better vertical, but maybe I should put it back?
Aubrey helped me drill the screws in but he was really more interested in fighting the "bad guys" with his stick. Crazy little boys! Stewart was enjoying it outside with us though… that's my dog in the background.
Since I don't have a fireplace I have a feeling I will be changing the look of this quite a bit. This isn't what I had originally had planned for my pallet wood, but I have to start putting all my stuff somewhere and I am dying to decorate so this is what I had available to use.
You can find the tutorial for my Spring Wreath HERE
The tutorial for the "How He Loves" plaque can be found HERE.
Here is what the inside of those drawers look like
What do you think? Should I change it out… I'm still up in the air about this one!
If you haven't yet, don't forget to link up to this weeks Craft and Tell! I would love to see what you have been working on!
I'm linking up here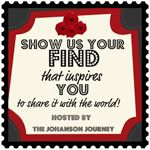 and all THESE fabulous parties!