PLEASE CHECK OUT MY GIVEAWAY GOING ON NOW
——–>

I hate to always talk about motherhood, but I am consumed with diapers, baby food, screaming toddlers, potties, poop, farting, flying food, time out and on the upside, snuggles, hugs, and kisses. Somewhere in between I try and do some crafts and that's about it for my day.
I have to admit, when I was pregnant with my son I did NOT think motherhood would be that hard….HAHAHAHAHA.
I don't really have much to blog about today, but I have really been slacking lately and feel like I need some blog time to myself!
So here goes nothing…..
If you enjoy crafting you should totally check it out. It's a contest where you like up your crafts, tutorials, ect. and if you win first prize you get a $25 gift certificate to Cherished Bliss etsy shop among many other AWESOME things!!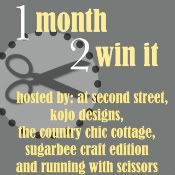 So if you get a chance check that out!! Auditions are going on now, and you can also browse through the current season, there are some pretty awesome ideas up right now.
———————————————
I have a question for all you out there in blog land….
I am trying to get our house ready to sell. Not really sure if we are going to sell yet, but I would LOVE a bigger house with my little ones, and so we are really striving to get out of this one and into a new one sometime this year. I told myself that even if it didn't happen, I was going to start treating my house like we really are going to put it on the market.
So my question for you is
Do you have any helpful tips on making your house "show worthy" that I should be working on now? Ultimately we are shooting putting it on the market in the next few months, but we'll see…
So if you have anything that helped you. Please let me know!!
Goodnight all!