It's Day 9. Guys… I am almost done! I have to be honest, these last few days have been rough for me to write about. I feel like I have used up all my words and I'm running pretty dry. I've never really considered myself a writer. When I write my blog posts I just type it out like I would tell you if you were sitting right next to me (maybe with a little less sarcasm) ; ). So today I have not only a simple tutorial for you, but a simple tutorial: Plaid Christmas Ball Ornaments.
Ok, I'm not sure you can technically call this a tutorial, because all I did was take strips of plaid fabric and stuff it in a clear plastic ball. But hey, for kicks and giggles let's write it out!
Supplies:
– Clear Plastic Ball
– Plaid Fabric Scraps
How to make a Plaid Christmas Ball
Tear your fabric into little strips and put inside the clear ball.
Well… that's it!
I don't even have another picture for you? You're probably sick of seeing my ornaments anyway huh?
On the plus side these 11 fabulous bloggers have some more tutorials for you! : )
If you are just tuning and and are a little weirded out by this post, that's ok! You can catch up here and will hopefully understand my lack of words today, but I promise… I normally have more to say, haha! : )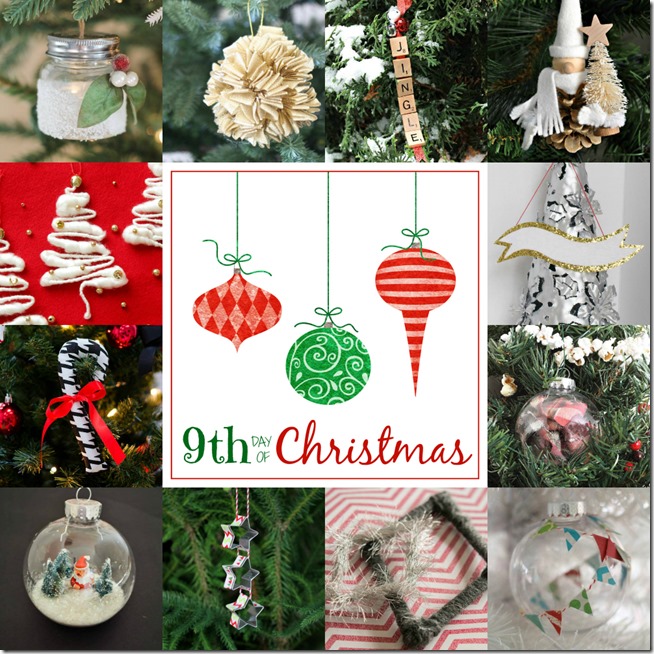 Mini Mason Jar Tea Light Ornament | Thrifty and Chic
Gold Ruffle Ornament | The Happier Homemaker
Scrabble Pieces Jingle Bells Ornament | Mom 4 Real
Bleached Pinecone Woodland Gnome | Serendipity Refined
Wire Christmas Tree Ornaments | Remodelando la Casa
Gold and White Banner Ornament | May Richer Fuller Be
Stuffed Candy Cane | It All Started With Paint
Plaid Christmas Ball Ornament | Cherished Bliss
Snow Globe Ornament | Whats Ur Home Story
Star Cookie Cutters Ornament | All Things G&D
Modern Yarn Wrapped Ornament | Bigger Than The Three of Us
Paper Pennant Ornament | Lovely Etc.