I am so honored and suprised that
Ashlee

from

My Swank Crafts
You are too sweet!! Make sure and check her out at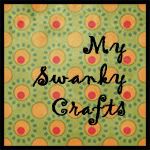 *To accept this award, I have to…
1. Thank and link back the blogger who awarded me!
2. Share 8 things about myself
3. Award 8 more "Stylish Blogger's" of my choice!
4. Contact the bloggers and inform them of the Award!
–About me–
2.
I love my family more than anything
3. My mom and sister are my best friends (my whole family really!!)
4. I wish I was a photographer!
5. Bread could be substituted for all sweets and I would be happy…it is totally my weak spot!
6. I started getting grey hair when I was 14 : (
7. I have big feet for a short person… 5'3″ with a size 9 shoe
8. I LOVE LOVE LOVE to laugh.
I will be awarding 8 more people shortly, but both my kids just went to sleep and it's a race against the clock… look out for the awards later today!!! : )