2011 was a lot of fun, but I love new starts! I even made the most clique resolution ever.. loose weight. Diet starts Monday! : ) We'll see…
Since everyone is sharing their top 10 I thought I'd jump in on this party too! I'm also going to show you a recap of the last 3 months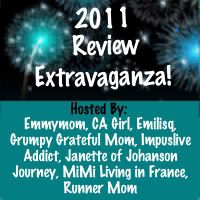 Let's start off with the top 10 because I am looking it up….NOW…. so technically I don't even know what they are yet. : )
# 10 First Birthday Crown
#9 My Polka Dot Superhero Cape
# 8 Baby Blocks
#2 Floor Pillows for the kiddos
And the NUMBER 1 favorite post from 2011 is…..
So there we have it! My top 10 of 2011! I am so excited to see what 2012 has in store!!!! : )
————–
Now let's recap real quick my last 3 months in case you missed it ; )
 (click the pictures for the post)
Then I was busy packing for our move and had a lot of guest posters to keep me going!
Shared my "Sleeping Superhero" that is still thrown off to the side.. still working on it!
Aubrey Turned 4…. omg he's 4!!!
…and I made a complete goofball out of myself and made a video of myself for the CSI Agents @ The CSI Project! Probably one of the funnest things I have done in a while though!
and I just submitted my first project to OMTWI, so make sure you are following along to vote!
——————————————-
That's it… 2011 ended last night at midnight and we begin a new year! A HUGE HUGE HUGE thank you to all of you! You are my drive behind this blog. It takes a lot of time, and if it wasn't for your sweet comments keeping a smile on my face I would probably not have the oomph to keep going! You are fabulous and I cherish each and every one of you!
See you in 2012!