I didn't actually plan on doing a Valentine Mantel this year because well, mainly I have just been so busy, and I really want to have a valentine party with my kids (so that is where all my decorating was going to go) but I couldn't help it, I threw something together really quickly. My husband and I are planning to get away the weekend of the 12th so I'm not certain there will be a party, this resulted in the decision that I should have a mantel just in case ; ) Crazy thought process, I know, I'm weird like that!
I made a "Love" banner using paper tags purchased from PYP (gotta love that site)!! Then I printed the letters/hearts onto some linen fabric I had and glued it onto the tags, strung it on some crochet thread and tied it to the shutters, super easy stuff!
Now, if you were here around Christmas time I know what you must be thinking… aren't those red sticks from Christmas?
Yes, yes they are : )
Now you are probably wondering… I thought she took her Christmas stuff down.
Well, technically I did, BUT I haven't put anything on my mantel since I took everything down and well, that vase just kind of got left up there. I have good reason. The vase was meant to be interchangeable (mission accomplished) but the red sticks I figured I would just throw them away. Not real sure what happened there, but I'm glad I didn't now. So let's just go with,
I meant to do it!
Anyways.. back to my red sticks, you can't really see it all that well in the picture (terrible lighting) but I cut out little mini pink hearts and made ornaments! Here is a close up…
Then I just wrapped some yarn around the burlap that is already attached to the vase : ) It's pink and sparkly… oh so valentine-y!
Next I just grabbed some random frames laying around the house and threw them up there. The pink oval one I stole from Addison's room. I haven't done her frame wall yet so it was just sitting there… lucky for me she's not old enough to even notice… hehe!
I tied some yarn around the little frame and taped the red heart to it. Addison's frame has a chenille fabric behind it. Pretty sure I love that fabric a LOT!!
My FAVORITE part about the mantel is looking at the little pictures up there! They are leftovers from another project I am working on ; ) Aren't those just the cutest faces you have ever seen?!?!
Just in case you don't see what the pictures are
The close up of their face is for "I"
The heart is "Love"
and the last picture they are pointing at "You"
I — Love — You
Addison isn't really pointing, because well I couldn't have bribed her with anything that day to point at the camera, but it's close enough right? : )
So there you have it, my
Valentine's Day Mantel

If you are just stopping by, I am hosting a 14 Days of Love Series, make sure and check it out!!
It starts HERE and you can follow along with a new blogger each day!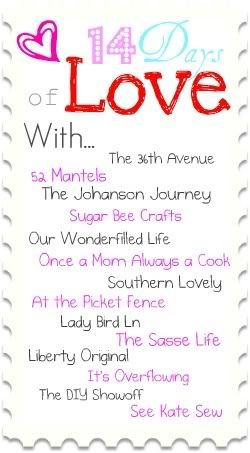 One more thing, if you LOVE Pick Your Plum as much as I do, and you buy their products (which is super addicting) we are starting a party just for you to share EVERYTHING you do using PYP products! Check it out, it all starts Feb. 1st, so get to buying some stuff!!