Check out the awesome link party that my friend is co hosting!!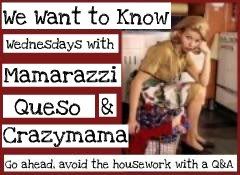 1. If money didn't matter, where would your perfect vacation take place?
Oh gosh. I am such a split personality! Part of me would totally go to New York City and go to every broadway show there!! Another part would want to go to somewhere around Ireland/Scotland in the mountains. And of course I would love to go to a gorgeous beach with water where you could see a mile down. Since I have been to NYC and just didn't get to spend as much money as I would have liked it would probably be one of the other two.
2. What's a bad habit that you have (or had) that is/was hard to break?
You mean still have! I bite my fingernails like a little girl… and I wish so badly that I could have gorgeous hands : (
3. If you weren't on a diet or counting calories, what would you like to have for dinner tonight?

I wasn't aware I was on a diet. But if I had my pick of anything I would go have Chicken Marsala with fettucine and sugar rosa sauce and a salad at Carabbas. FAVORITE MEAL EVER!!!

4. If you had the chance to interview anyone in the world, dead or alive, who would it be and what's one question that you would ask?

Lucille Ball – I would ask her to hang out with me for the day so I could experiece I day of "I Love Lucy"


5. Describe yourself in 6 words.
Hmm…
Stressed, Nice, Impatient, Creative (sometimes), Loving, Loves to Laugh <– just pretend that's all one word : )