It's Wednesday and time to answer some questions!!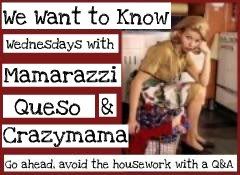 Make sure and check out all the awesome women behind We Want to Know
1. What was the last thing you searched for online?
You mean what was the last thing I DIDN'T search on? I can admit it, I have an obsession with the internet, blogging, and pinterest. I wish I didn't… but I do. It's sad kinda, I really can't remember the last thing I searched on. Probably some type of pottery barn bedding cause I really want to make some. I keep seeing all these awesome knock offs and I want to do one to!
2. If we visit your home state, what is one MUST we should do before leaving?
Take a shower, haha! It's so stinkin hot right now. Umm.. I'm probably not the best person to answer this cause I have never really cared much for Texas. I've always wanted to go to the Nutcracker Festival at Christmas time though.
3. What do you think pharmaceutical companies should invent a pill for that isn't on the market yet?
Realistically? Something that truly takes away irritability from PMS. You can take away the pain all day, but the irritability is still there… at least for me anyways.
4. When was your first kiss? Was it good or bad?
Hmm… I was somewhere in middle school. It wasn't great, it wasn't bad. Now I know why my mom always said only kiss your husband. It will never be as good as it is with your one true love! : )
5. What is your guilty pleasure tv show that you can not miss?
I do not stay up with current TV shows. Although we do watch America's got talent OnDemand though, so we don't wait for it… we just watch it when we can. We also record Whose Line is it Anyway. I know, we are super boring people.