It's Day 8 of the 12 Days of Christmas Series. Have you been following along? If you are just joining in, you can catch up on all the ornaments here. Today's ornament is a little spin on yesterday's. I have a really hard time doing the same thing over and over again… so once I did like 3 of the antlers I had to do something different. Well of course I had to incorporate paint into them! And here you have these Painted Wood Burned Snowflake Ornaments.
The paint really adds dimension to these ornaments. I might have had a few craft "fails" and there might be like 7 layers of paint on there… so maybe that's where the dimension is coming from but hey… sometimes those fails turn into something awesome right! Let's make some!
Supplies:
– Wood Slices
– Acrylic Paint
– Foam Paint Brush
– Wood Burning Tool
– Template to trace
– X-acto Knife
How to make a Wood Burned Snowflake Ornament
First paint the inside of your wood slice with your foam brush. I went with a gold color and I didn't tape anything off… just do your best! Unless you want a perfect circle. Well… I can't help you with that. I'm lucky I can write my name and have people read it. It's pretty sad when you can cut better with a jig saw than you can paint a circle right??
Then get your template that you plan on tracing. I just found one on google and reduced the size (make sure you can use the image). Tape it on your wood slice.
Using your X-acto knife, cut through all the lines. For the small ones I just pushed the tip into the wood. You are just trying to give ourself a guide to follow with your wood burning pen.
Then using your wood burning tool, follow along the lines. If it's not wanting to be that detailed, use the tip to create a series of dots.
And now to see what everyone else is sharing today! : )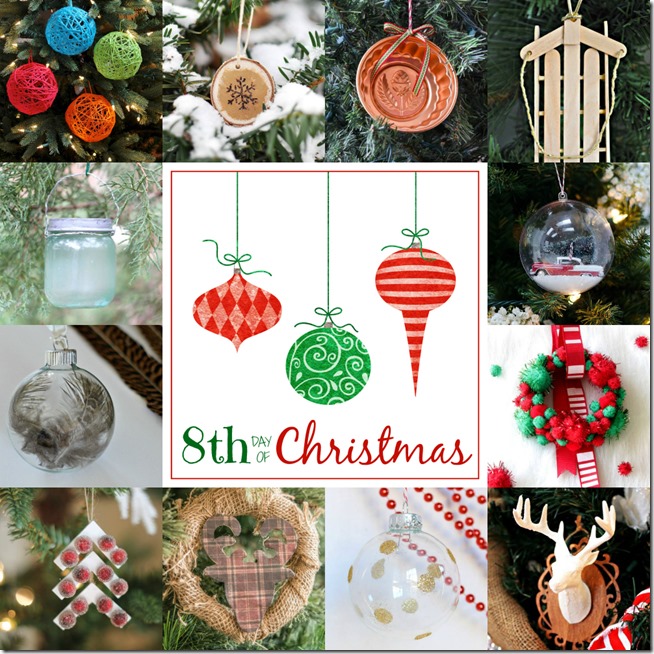 Yarn Ball Ornaments | All Things G&D
Wood Burned Snowflake Ornament | Cherished Bliss
Vintage Jello Mold Ornament | Whats Ur Home Story
Simple Popsicle Stick Sled | Serendipity Refined
Mini Mason Jar Ornament | Lovely Etc.
Snow Globe Ornament | It All Started With Paint
Wispy Feather Ornament | The Happier Homemaker
Pom Pom Wreath Ornament | Remodelando la Casa
Hardware store Christmas Tree Ornament | Thrifty and Chic
Burlap and Reindeer Ornament | Bigger Than The Three of Us
Glitter Polka Dot Glass Ball Ornament | May Richer Fuller Be
Deer Head Ornament | Mom 4 Real
Catch up on my other Ornaments HERE