Disclosure: Michael's provided me with a gift card to purchase some of the supplies for the ornaments used in this series. 
It's Day 11. This one was so fun to make! I'll admit, I wasn't very in to the whole deer head thing. Maybe because I grew up in the south and everyone wants a deer head hanging on their wall… the real kind. Some time has passed I have officially jumped on the deer bandwagon. Still can't do a real one…. but I am loving this little 3D Deer Head Ornament.
I saw these little guys at Michael's while I was shopping for some Christmas supplies a few weeks ago and I've been so excited to use them! I also grabbed those unfinished plaque ornaments to mount my deer heads on. So here is what all you will need…
Supplies: 
– 3D Deer Heads from Michael's
– Unfinished Plaque Ornament from Michaels
– Wood Stain
– Foam Brush
– Hot Glue Gun
How to make a 3D Deer Head Ornament
Using your foam brush, you are going to stain the wooden plaque. I used Minwax's Dark Walnut.
Once that is dry, I just hot glued my deer head onto the ornament. I chose to leave him unfinished, but you could certainly paint him if you wish. I almost painted him gold, but decided not to. Maybe next year ; )
Kind feels like he should have a string of lights on his antlers doesn't it? I might just have to find me one of those mini necklaces and give him a little decor of his own!
If you are just tuning in, you can catch up with my other ornaments HERE. 
To see what they other ladies have for you today you can take a stroll through below!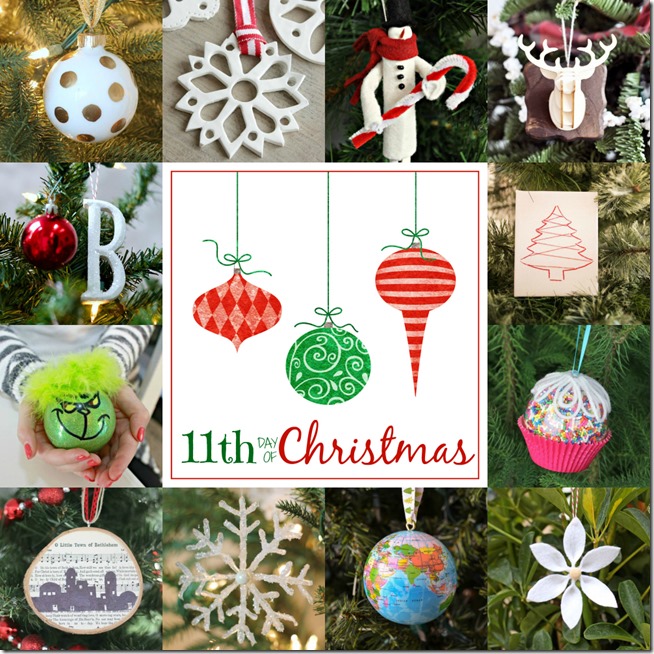 Gold Leaf Polka Dot Ornament | The Happier Homemaker
Polymer Clay Snowflake Ornament | Remodelando la Casa
Clothes Pin Snowman Ornament | Serendipity Refined
3D Deer Head Ornament | Cherished Bliss
Glitter Monogram Ornament | It All Started With Paint
Simple Canvas Tree Ornament | Bigger Than The Three of Us
Painted Grinch Ornament | Mom 4 Real
Cupcake Sprinkles Ornament | All Things G&D
O Little Town of Bethlehem Ornament | Lovely Etc
Frosted Hot Glue Snowflake | Thrifty and Chic
Globe Ornament | Whats Ur Home Story
Felt Flower Ornament | May Richer Fuller Be