Today is day 12. The last day of the 12 Days of Christmas Ornaments. I'd like to say that I saved my best for last, but to be honest, I completely changed my ornament at the last minute. Linda, from It All Started With Paint is the lovely lady who put all this together and I emailed her and asked if I could give her my picture for the collage a little late because I just wasn't liking my last ornament, I knew after all this hard work that I couldn't end with something I didn't like! So here is my last Christmas Ornament of the year: Pine Cone Star Ornament. And then you get to share your ornaments with us with a link party! 
To make this pine cone ornament you only need a few things. You know how I like to keep things simple ;) Supplies: – Pine Cones – Hot Glue Gun
How to Make a Star Pine Cone Ornament
I used two different types of pine cones for this ornament. I'd love to tell you what kind they are, but I just found them at the park earlier this fall. So, next best thing, pictures : ) Both of these are pretty common, I'm sure you know what I'm talking about.
The ones in the middle are longer and skinner and much softer. I used those for the center because I jus think they are beautiful from the top! The ones I used on the outside is just your standard pine cone. I started with 1 center pine cone. and glued 3 of the regular pine cones around the outside of it. It takes quite a bit of glue, just hold them in place until the glue dries. Once you have those 3 on, I added the other 2 center pine cones and the remaining 3 regular pine cones. Add glue where you feel it needs it, and just make sure to hold it in place until dry because it will slide around and fall off!
I just not to put any kind of hanger on this because it's pretty large. Also the center pine cones stick out quite a bit in the back and that makes it great for resting in the branches, but you could certainly glue a little twin on there if you prefer to hang it. And this ladies and gents concludes this crazy journey of posting 12 days in a row and 12 different ornaments. Are well all crazy? Probably!
Catch up with all 12 Ornaments HERE. 
You can also check in with what my blogging friends are sharing today! BUT that's not all! Keep scrolling and YOU get to share with us what ornaments you have been creating this year!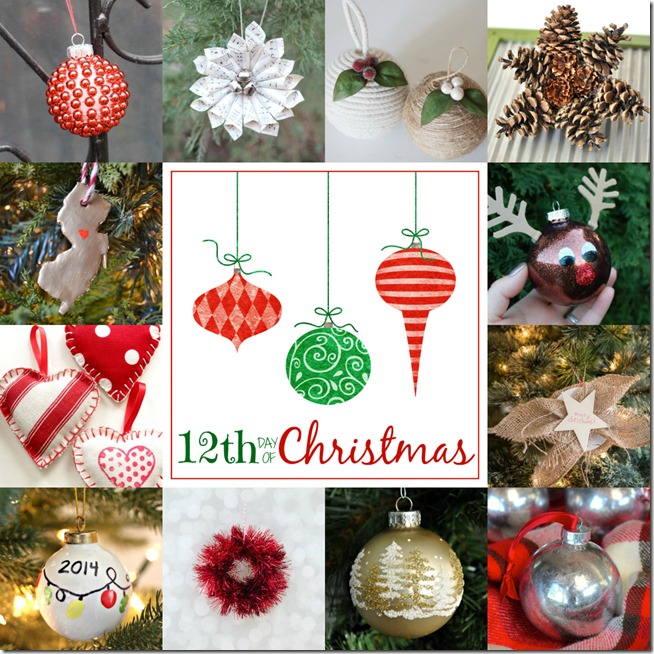 Simple Red Bead Ornament | May Richer Fuller Be Christmas Music Wreath Ornament | Lovely Etc. Nautical Jute and Rope Ornaments | Thrifty and Chic Star Pine Cone Ornament | Cherished Bliss Clay State Ornaments | Whats Ur Home Story Rudolph Ornament | Mom 4 Real Fabric Heart Ornaments | Remodelando la Casa Easy Burlap Ornament | Bigger Than The Three of Us Kid's Fingerprint Christmas Light Ornament | The Happier Homemaker Mini Tinsel Wreath from Canning Lid | It All Started With Paint Snowy Forest Glitter Ball Ornament | Serendipity Refined Faux Mercury Glass Ornaments | All Things G&D
Now it's time to share YOUR projects! 
Starting today you can link up any of your ornaments that you have been creating and we will be sharing and featuring some of our favorites! Can't wait to see what you have been creating! You might want to follow me on Instagram, I'm kinda obsessed with it, and I will probably be featuring some there as well as on my facebook! OF COURSE I will be pinning as well. What can I say I'm a social media addict ; )