It's Day 7 of the 12 Days of Christmas Series, and today I have some fabulously rustic wood slice ornaments for you. I bought these wood slices last year off of etsy…. being that my husband said I couldn't cut down the birch tree in our backyard for craft projects. I mean… I don't really see the problem, but I guess I'll be a good wife and keep my saw in the garage ; ). I just put the wood slices on the tree as they were last year and they were great, but this year I decided I would create these adorable Antler Wood Slice Ornaments.

For these ornaments you will need one of my favorite tools, a wood burning tool. They sound so scary, but guys… these things rock! I admit… I was that kid that was always fanning the flames and sticking anything possible into bonfires, so maybe this just fulfills my adult piro problems, but it is seriously a blast to play with!
Supplies:
– Wood Slices (make your own or they are available at craft stores)
– Wood Burning Tool (affiliate link)
– Template or mad art skills
– X-acto Knife
* Please be careful, this tool can be dangerous if not used properly!!!!
How to make Antler Wood Slice Ornaments
So the first thing you need to do is find a template for the antlers. I found one online and just reduced the size to 1″x1″ or for however big your wood slice ornaments are. Then tape that down to your wood slice so it doesn't move around. Pretend that snowflake is really antlers. I'm mixing up all my ornaments and I was missing a picture ; ) but this might just be a preview to tomorrow's post… maybe.
Now take your X-acto knife and pushing down hard enough to make indents in the wood slice, trace the shapes. It doesn't have to be perfect, you are just trying to give yourself a little guide to go on when using your very fun (yet dangerously hot) wood burning tool. Don't forget to remove the paper first! While this craft is awesome… you probably don't want an audience of firefighters at your home!
I used a thin tip on the tool that allows you to be a little more precise, and just followed my lines made by the X-acto knife.
If it gets hard around some of the curves, I would use a series of dots to help me out. I'm not an artist in the least little bit, so drawing a line that looks good is a challenge for me! : ) But the good news is, you can use this process to create tons of different kinds of wood slice ornaments. I'll be putting a little spin on this for you tomorrow!
Now let's see what the other bloggers are up to today and what awesome ornaments they have come up with!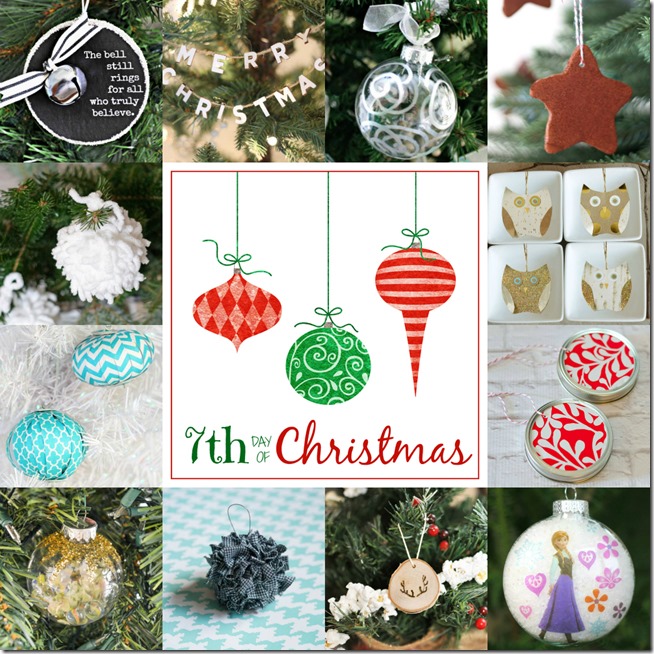 Polar Express Bell Quote Ornament | Serendipity Refined
Merry Christmas Jute Garland | Thrifty and Chic
Silver Painted Ornaments | Mom 4 Real
Cinnamon Dough Ornaments | The Happier Homemaker
Yarn Snowball Ornaments | May Richer Fuller Be
Paper Owl Ornaments | Remodelando la Casa
Scrapbook Paper Ornaments | Lovely Etc.
Mason Jar Lid Ornaments | It All Started With Paint
Marbles Ornament | Whats Ur Home Story
Antler Wood Slice Ornament | Cherished Bliss
Simple Fabric Ornament | Bigger Than The Three of Us
DIY Princess Anna Ornament | All Things G&D
Catch up on my other Ornaments HERE