Today I have a fun little paper craft for you. Please tell me I'm not the only one always looking for a post it note to stick on their forehead! I am the MOST forgetful person EVER! Especially being pregnant. So I wanted a fun way to carry around post its where they wouldn't all fall off and get on everything in my purse. So I made a matchbook style case for my little mini post it notes!
Try not to pay any attention to my awful looking fingernails, I guess being a mom means you don't have pretty fingernails all the time ; )
This project is so quick and easy to make, so today I'm sharing it as part of the Craft Lightening series hosted by Angie at The Country Chic Cottage and Carolina from 30 Minute Crafts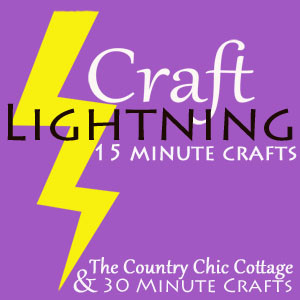 They will be sharing round ups of all the 15 minute crafts on their blogs later today, so make sure and check that out!
So let's take a look at these little ladies. I just happened to have this blue and pink paper, but how cute would these be for a baby shower favor! I made the pink one for my daughter… after I made myself the blue one, she obviously had to have one for her purse too! I guess so she can write things down to reminder her to "not take a nap" and "fight with bubby" ; ) As if she needs help remembering those things, haha!
Supplies:
– cardstock
– Paper cutter or scissors
– Stapler
– Glue stick
– Embellishments
– PSA Stamps
Matchbook Post it Note Holder Tutorial
1. Firstyou will need to cut out a piece of cardstock to the demensions below. Then following the diagram, score your cardstock (follow this tutorial on how to score cardstock with household items) and fold at the dotted lines.
2.  After you have scored and folded we are going to staple the bottom flap. So fold it upwards and staple 1/4″ from the bottom (fold). This is where the top fold will tuck in.
3. Once that is done, glue your post it notes lined up with your fold at 3 3/8″  fold. Depending on the height of your post it note package, you might need to adjust where you score here. I measured the height and scored that distance apart.
4. Now you just have to embellish it. I glued some ribbon over the staples and added a stamp on the front of mine using PSA Stamps with the "just a note" stamp, and tied a piece of baker's twine around the top. For more great tutorials using PSA Stamps, make sure and check out their blog
See, quick and easy! If you love quick projects, be sure and check out my Monogrammed Corner Bookmarks and Ruched Fabric Flower.
And don't forget to stop by and check out the other Craft Lightening Projects by clicking the button at the top of the post!
Have a beautiful day!