It's Wednesday and time to answer some questions!!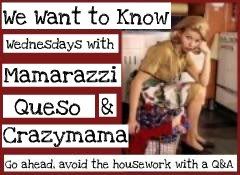 Make sure and check out all the awesome women behind We Want to Know
2. When you were a young child or teenager, did you have an idea of how many children you wanted and what their names would be? Did you follow through on your ideas? Lindicious Life
http://jklind.blogspot.com/
Umm.. I think it changed alot throughout my life. I remember at one point not wanting kids.. and here I am 24 with 2 and I love them more than anything! Last I remember I wanted 3 maybe 4. I never really picked out names… we always figure it out when I'm pregnant : )
My husband and I don't really fight that much… he's too cute : ) But we do argue quite often about what the other one ACTUALLY said… she he claims I said something other than what I really said and he never hears right…. obviously I'm always right : )
My mom and I always had a weird thing for puppy breath. But I have found that there are other weirdos besides me.. so maybe not so weird?
5. Thoughts on Plastic Surgery? (had it? want it? regrets?)
Well… if I continuously get worse after each kid… which seems to be the pattern I would be up for some extra skin removal and a nice natural looking lift. Now.. the real question is.. could I handle the thought of the knife… probably not. I see sucking in and wonderbras in my future.