It's the third day of the 12 Days of Christmas Series. Each day that I share a new ornament I get even more excited about putting up my Christmas Tree! I'll have to put it over the weekend for a few other blog posts I got coming up for you, and I can't wait to hang all my new ornaments. If you're up to date on my Christmas posts you already know this, but if not…. I am going with a Rustic Woodland Theme this year, and I'm head over heals for plaid right now, so naturally I needed some plaid ornaments. So today I'm sharing with you this Plaid Mason Jar Lid Ornament.
This year I'm all about the easy crafts for Christmas. When you are making a bunch of decor you can't exactly sit down and create intricate projects… especially with my kids! But don't a lack of time let you feel like you can't have what you want! There are so many projects that take minutes to complete, and this one is lightening fast! Let's talk about what you will need.
Supplies:
– Mason Jar Lids
– Fabric Scraps
– Twine
– Tape
How to Make a Plaid Mason Jar Lid Ornaments
Are you ready for the super fast awesome-ness? You literally just cover the inside of the mason jar lid with fabric and place it back in the outer ring. The fabric should hold it in place. If not you can add a little tape. Since I like to reuse things a lot and mason jar lids are something I'm always messing around with I didn't want to be permanent, so I just taped on some twine to the back of the lid. It's not heavy at all so it should hold fine. Mine has been hanging on a table top sized tree for a few days and we are still good : )
See how easy! Easy yet beautiful! I just love this fabric! I found it at Joann's, and I kinda want to make myself some clothes with it. But it's just asking to be used for home decor around my house,!
And here are the rest of the 11 ornaments for Day 3. Click around and enjoy all those ornaments!!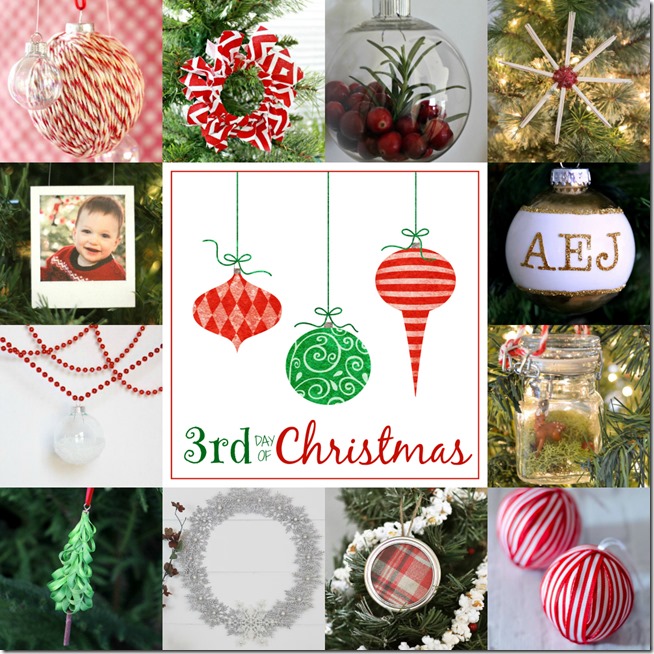 Yarn Ball Ornament | Remodelando la Casa
Mason Jar Ring Fabric Ornament | Mom 4 Real
Cranberry Rosemary Glass Ornament | The Happier Homemaker
DIY Wire Star Ornament | Bigger Than The Three Of Us
DIY Polaroid Photo Ornament | Lovely Etc.
Glitter Monogram Glass Ball | Serendipity Refined
"Snow" Dipped Glass Ball Ornament | May Richer Fuller Be
Terrarium Ornament | Whats Ur Home Story
Ribbon & Stick Christmas Tree Ornament | All Things G&D
Snowflake Christmas Wreath | Thrifty and Chic
Plaid Mason Jar Lid Ornament | Cherished Bliss
Red & White Ribbon Wrapped Ornaments | It All Started With Paint
Catch upon my other ornaments: