Disclosure: Michael's provided me with a gift card to purchase some of the supplies for the ornaments used in this series. 
It's Day 5 in the 12 Days of Christmas Series and I'm here to share another fun ornament with you. I was browsing through Michael's the other day and I ran across these unfinished wooden ornaments. I knew I had to have them! I mean it's kinda hard to pass up a piece of unfinished wood that I could stain and/or paint. I'm loving how they turned out and can't wait to add them to my Christmas Tree!
These ornaments combine two of my favorite things: a beautiful dark wood stain and white paint of course!
Supplies:
– Unfinished Wooden Ornaments from Michaels
– Dark Walnut Wood Stain
– Foam brushes
– White Acrylic Paint
– Sandpaper
How to Make Stained Wooden Ornaments
These ornaments immediately caught my eye. They are just a beautiful shape and I knew they would be perfect on my Rustic Woodland Christmas Tree.
To get started we need to stain the ornaments. I used a foam brush to apply the stain all over the ornament, and then wiped off the excess. Make sure to get in to all the cracks and remove any excess so it doesn't drip while drying.
Let the ornaments dry completely and then you can get your white paint ready. I took another foam brush and barely dipped it in to the paint and brushed the it all around the ornament and let that dry as well. When everything is completely dry, take some 220 grit sandpaper and rough it up a little to give it that distressed look.
I sure hope you are enjoying this series and have had a chance to hop around to see some of the others. At the end of this there will be 144 ornaments for you to look through! So let's take a look at what the others are sharing today!!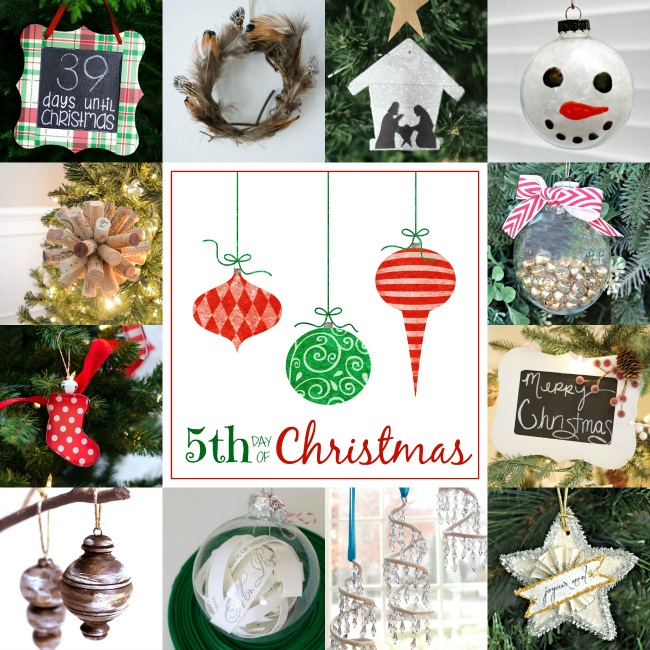 "Days Until Christmas" Chalkboard Ornament | All Things G&D
Feather Wreath Ornament | Bigger Than The Three Of Us
Nativity Silhouette Ornament | Lovely Etc.
Snowman Glass Ornament | Mom 4 Real
Cork Ball Ornament | Whats Ur Home Story
Easy Bell Filled Ornament | The Happier Homemaker
Cookie Cutter Ornaments | It All Started With Paint
Chalkboard Holiday Sign | Thrifty and Chic
Stained Wooden Ornaments | Cherished Bliss
Wedding Invitation Glass Ball | May Richer Fuller Be
Spiral Christmas Tree Ornament | Remodelando la Casa
Vintage Style Glittered Wood Star Ornament | Serendipity Refined
Catch upon my other ornaments:
Day 1
Day 2
Day 3
Day 4