Disclosure: Michael's provided me with a gift card to purchase some of the supplies for the ornaments used in this series. 
It's Day 4 of the 12 days of Christmas Series. This ornament came about due to my cute little kids who one day decided to spill my jingle bells (that I had other plans for) all over the floor. I'm fairly certain I haven't sat in days and it felt like they were just coming in behind me destroying everything they touched. When the knocked these all over the floor I just gave in and sat down on the floor with them. We shook jingle bells and they threw them all over the floor. I grabbed some twine and tied a few and this new Rustic Jingle Bell Ornament was born amongst all the chaos.
Sometimes its the crazy times in life where you can find peace and rest. As soon as I sat down and just embraced the fun my kids were so desperately trying to have while I was running around cleaning and trying to check items of my list, I created something beautiful with them. So while these ornaments are just some jingle bells on a string tied in a knot, the represent the love and joy of my children!
Rustic Jingle Bell Ornament
After I had them tied on the twine, I decided that they needed to be tied in to the direction I am headed with my tree this year. I just took some white acrylic paint and barely dipped my foam brush in it and brushed a few little streaks on each of the jingle bells.
Then I just took all three pieces of the twine and tied it into a loop at the top. Easy peasy right?
Now it's time to hop around and take a peek at the other 11 Christmas Ornaments for today!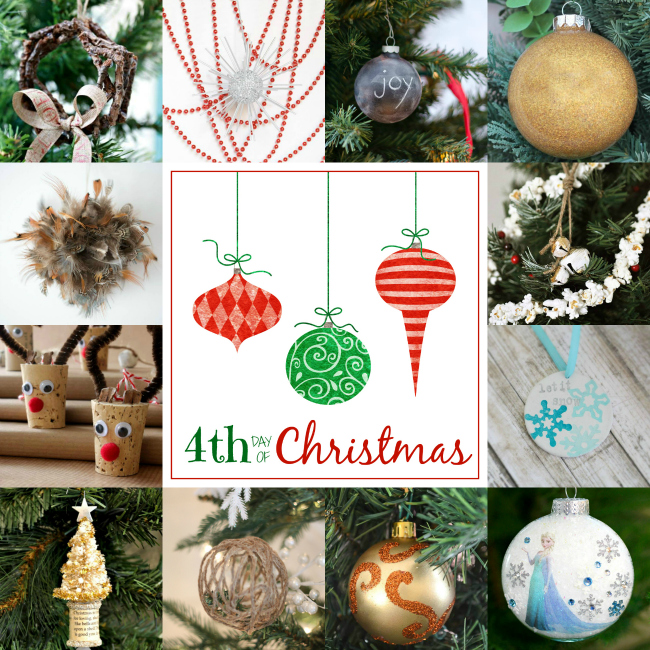 Rustic Twig Wreath Ornament | Mom 4 Real
Silver Starburst Ornament | May Richer Fuller Be
Chalkboard Paint Ornament | It All Started With Paint
Holographic Glittered Ornament | The Happier Homemaker
DIY Feather Ball | Bigger Than The Three of Us
Rustic Jingle Bell Ornament | Cherished Bliss
Wine Cork Reindeer Ornament | Remodelando la Casa
Clay Snowflake Ornament | Lovely Etc.
Vintage Style Bottle Brush Tree | Serendipity Refined
Jute Ball Ornament | Thrifty and Chic
Glitter Swirl Ornament | Whats Ur Home Story
Princess Elsa Ornament | All Things G&D
Catch upon my other ornaments: